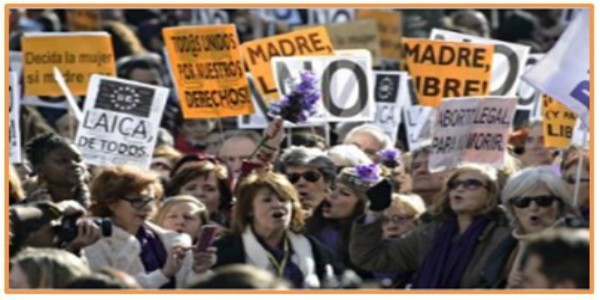 On 25 November 2016, the Campaign newsletter reported the case of "Paula" from Galicia, who in 2012 had learned seven months into her pregnancy, due to errors during antenatal diagnosis, that the fetus she was carrying had an anomaly incompatible with life. As she was unable to find anyone who would terminate the pregnancy in Galicia, the Galician public health service, SERGAS, declared that "in order to respect the professionals' right to objection on moral grounds", the authorities would pay for termination of the pregnancy in a private clinic in Madrid. By that time she was into her 32nd week of pregnancy. By the time she arrived in her car at the clinic in Madrid, she was bleeding heavily and had to be transferred to a hospital for an emergency caesarean section to remove the fetus, which died soon after. Her uterus had to be removed to stop the bleeding, which saved her life.
The Galician public health service was ordered by the court in Galicia in October 2016 to pay her €270,000 in compensation for negligence. The judgement of the court was very critical of the Regional Health Service and of everyone involved in her care, including the hospital not taking any responsibility for making sure her journey to Madrid was safe. The President of the Health Service apologised in public and promised not to appeal the sentence. The insurance company did appeal, however, and the judgement against them was handed down one month ago and was as critical of what happened as the original judgement had been.
The problem, according to one of the lawyers involved, is that Galicia has not done anything since in the way of training healthcare providers or changing their policies so as to ensure proper access to abortion for women in the region – in spite of the court's judgment. Other cases of women also came to light during the preparation of Paula's case – women who had had babies with severe malformations whose doctors had not provided them with any information on the fetal condition. They were unable to seek compensation – either because of lack of resources or because these children were in the care of the same county hospitals where the women had received antenatal care, and they feared reprisals if they made a claim.
E-mail from Francisca Fernandez Guillén, Galicia, 9 August 2017