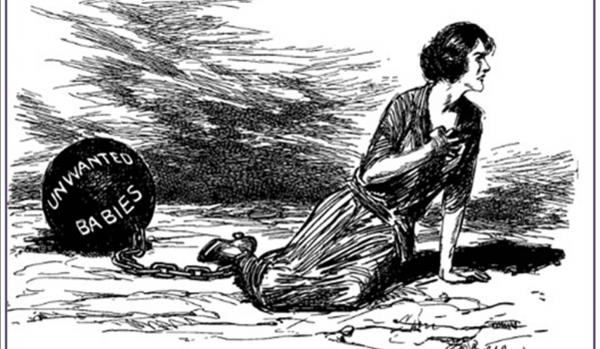 USA
Pregnant against their will, with few options, and fearing for their lives and safety
"I'm in the family way again, and I'm nearly crazy, for when my husband finds out that I'm going to have another baby, he will beat the life out of me… Please write to me and help me." (USA, Birth Control Review, 1917)
"I am in need of help desperately. I am pregnant and cannot have this baby. My husband is very abusive and did it on purpose because I want to leave. I need help… Please help me." (USA, Women on Web, 2016)
FULL ARTICLE AND VISUAL: Letters from women pleading for abortion, sent in 1917, mirror emails sent today, by Callie Beusman, Broadly/Vice, 15 February 2017
***
"In 1966, my mother flew from Seattle to Japan, alone, to have an abortion. She was 16. It's strange, as a daughter, to wish you could protect your mom from something that happened so many years ago."
FULL ARTICLE: At 16, my mom flew to Japan alone to have an abortion, by Alexis Cheung. New York Magazine, 6 February 2017
---
UK
Seeking help from the Abortion Support Network
In January 2017, the Abortion Support Network in the UK heard from 103 women, couples and families seeking help, advice, or financial support. In addition to calls from the women needing their services, they were contacted by two aunts, a boyfriend's mother, a niece, a son, a neighbour, a social worker, a psychiatrist, and several husbands, boyfriends and partners. Here is what some of them said:
"Please email back as I don't have anywhere private to take the call. I have skipped rent this month so I can pay for flights, accommodation and the procedure."
"I found out on Christmas Eve I am pregnant. This is with a boy who is not a nice guy and I also do not have the money to have a baby or to terminate the pregnancy. I have a few questions, I attended a clinic here but realised quickly they could not really give me much advice because of the law. I also had questions about some help with money for my travels as I have no money at all."
 
"I haven't been to a doctor as I don't want people to know I'm getting an abortion and I know doctors are confidential but I live in a small town and he is a family friend also so it's just awkward. I haven't talked to anyone bar my boyfriend as I feel ashamed to say I want an abortion, to be honest, but I have nothing to support a baby."
 
"I've literally had so much to deal with at the moment, I don't know what to do. My partner has left me for someone else, he doesn't want anything else to do with me at all. He thinks I'm lying about the pregnancy. I can't afford the procedure so I don't know what to do."
 
"I'm 30, I'm Irish, I'm Catholic and I'm 5 weeks pregnant."
"My parents would never forgive me for falling pregnant outside of marriage and for having a termination so the only person I can talk to is my boyfriend. I don't know what to do as I always wanted children and I'm afraid if I do this, alone especially, I'll become infertile."
"I am a single mom of two already and cannot afford to bring another child into the world. I can't even afford to have an abortion. I feel like the easiest thing is to hang from a tree, except I can't leave my kids."
Others:
A woman who was told she needed to wait at least a month to get a scan to determine how far along she is. 
The relative of a young girl, pregnant after being groomed online by an older man. 
A young woman living in sheltered accommodation with her baby after having left an abusive relationship with someone who stole all her ID and bank cards.
A woman with a pregnancy diagnosed with a fatal fetal anomaly who asked her doctor for additional antenatal tests – but her doctor asked what she wanted them for as she 'can't do anything about it'.
And afterwards:
"I just wanted to write to you to thank you for everything. I had begun to think there weren't good people in the world and I was wrong. You all have been fantastic for me and if there is anything I can do for you, I would love to help, really. A million thanks for everything."
SOURCE: Abortion Support Network Newsletter, UK, 15 February 2017
---
IRELAND
This article reports the stories of four Irish women who made the journey to England to end a pregnancy:
"I don't regret either abortion. I dealt with it and moved on. It's not an international incident. It's family planning. You should be able get yourself sorted in Ireland if you're not ready for a baby for any reason. I'm disgusted I had to go to England… At least four of my friends have travelled – most of them have gone more than once."

"It was sad to see English girls there with their mothers. I was thinking, 'It must be lovely to have your mum there with you."
"Even if you are comfortable with your own moral position it's difficult to know in the eyes of the law you are a murderer."
"Walking out of the clinic all I felt was an overwhelming sense of relief, empowerment and deep, deep gratitude for the British health system and the amazing staff. Before I left I was handed an abortion aftercare leaflet produced by the HSE (Ireland's health service). I was livid. The leaflet uses the phrase "free non-judgemental support". There's nothing non-judgemental and supportive about having to use a pseudonym because to speak openly could impact my ability to change jobs or further my career in the future. If they were non-judgemental and supportive, I would be able to have an abortion in my own country."

In 2015, 3,451 women and girls from the Republic of Ireland travelled to England to have an abortion, according to UK Department of Health figures. A further 833 came from Northern Ireland and 105 from the Isle of Man.
FULL ARTICLE: Four Irish women open up about the 'barbarity' of being forced to travel to England for an abortion, by Katie Grant, iNews.co.uk, 3 February 2017
---
UK
I had an abortion when money made the difference between life and death
This is the story of Diane Munday, who had an abortion in 1961, before the change in the British law in 1967, and the responses of other women to her story, as told to the BBC:
"…A local young married woman was making me a party dress; I went to her house for fittings. She had three young children and lived in a small post-war prefab house. I remember a very happy family…
One day when I came home from work – I was a research assistant at Barts Hospital – my mother told me the dressmaker had died. I discovered she had had a backstreet abortion that went wrong.
"I was so shocked by this that I mentioned it to colleagues at lunch the next day. The doctors I worked with said it was a common experience and invited me to "stay behind on Friday evening and we'll show you what the world is really like". I discovered then that all the London teaching hospitals set a few wards aside each Friday for women who were septic, bleeding or dying from having backstreet abortions. There would be a spate of cases on Friday because it was payday."
[Diane married and had three children within three years. When she got pregnant the fourth time, she decided to have an abortion.]
"Coming round from the anaesthetic, I remembered the young dressmaker who had died and realised how similar our situations were; we were both young women with three young children but where we differed was that, because I had a chequebook, I was alive and because she had no spare money she was dead. This seemed totally and unacceptably wrong. At that moment I vowed to myself that I would do everything I could to prevent women dying because they were poor.
"So I went along to the next Abortion Law Reform Association annual meeting, spoke to some people who had also joined because of the thalidomide scandal and within a year I was on the committee. "That was when I started speaking out about abortion and that became my main role in the organisation.…"
Diane has fought for women's right to a safe, legal abortion ever since and has been a leader in the movement for over 50 years.
Other women's responses to her story
In response to her story, many women sent emails to the BBC with their own experiences of abortion over the last half century and more. Here are some from some of the 17 they published:
"…when I eventually went to a hospital clinic to discuss abortion they sent me away and told me I was old enough to have a baby… Sometimes I regret my decision as I never got pregnant again but it's something I live with."
"I have had two abortions. For me, both were sad experiences, but I will always defend my right to a safe termination and in no way do I feel guilty, though the grief remains with me… My great-grandmother died of an illegal abortion in 1901. My grandpa was an orphan at 18 months old. Safe abortion should be a woman's choice and right."
"I was forced to have an abortion by my then boyfriend. He was violent and controlling and I found out after having the abortion that he was married. Over time I have mixed emotions, sometimes I am relieved I had an abortion but I mostly feel guilt…" 
"I almost had an abortion in 1981. I was unmarried and it was an unplanned pregnancy. The doctor I saw at the hospital was not very kind and I found myself saying that I would not have an abortion in response. My daughter was born in Jan 1982. I don't regret having her and I am very proud of the woman she has become but I do regret having become pregnant as I was too young and too unsettled to have a child at that time. I found that I was blamed for the pregnancy and my partner was not. There was still a stigma against unmarried mothers at that time and I did feel quite alone. The ward sister, when I had a c-section, was particularly nasty and I was not as tough then as I am now and did not stand up for myself…"
"…While my mother was keeping me company in hospital when the termination was taking place – sadly late at around 20 weeks – she shared that she herself had a late backstreet abortion in the early 1940s, before she and my father could get married. It had made her very ill and she really disliked anything to do with childbirth. My experience in 1980, although scary and sad, was far less traumatic and did not affect my health. Thanks to a more merciful culture, I was free to enjoy giving birth later to three healthy babies in a stable and loving marriage."
FULL ARTICLES: I had an abortion when money made the difference between life and death, BBC.co.uk, 26 January 2017
From relief to regret: readers' experiences of abortion. BBC.com, 30 January 2017
---
PAKISTAN
Struggling to support a woman's right to choose everywhere
"Sonia woke up in a dingy room with searing pain in her stomach. All she remembered was being accompanied by her husband to a clinic for an ultrasound. She'd recently found out she was pregnant; her husband had often been abusive and didn't react well to the news. Today was supposed to be different: he insisted on going to the clinic so he could see the scan and Sonia hoped that reflected a change of heart. However, slowly Sonia realised she had been drugged and given an abortion without her consent at a private clinic. It took years for her to come to terms with the violence she suffered."
Lack of legal clarity forces thousands of women to endure backstreet abortions in Pakistan. An abortion hotline is providing information and support, initiated by the women's group Aware Girls, launched in June 2010.
The vast majority of the helpline's calls are about abortions, only 4% of the callers ask about contraceptives. Nonetheless, each caller receives information on the use of contraception. The contraceptive prevalence rate is low in Pakistan – out of a population of more than 190 million, only 35% of women aged 15–49 use it. Last year, Pakistan banned advertising for contraceptives.
The hotline Saheli (friend) has received over 25,000 calls so far and this is increasing by the day. They only help women who are under nine weeks pregnant, but in some cases they provide referrals for surgical abortions at selected clinics
Aware Girls received USAID funding. The money has not yet been withdrawn but they will now have to seek grants elsewhere due to the Global Gag Rule.
FULL ARTICLE: Abortion in Pakistan: struggling to support a woman's right to choose, by Sana Saleem, The Guardian, 30 January 2017