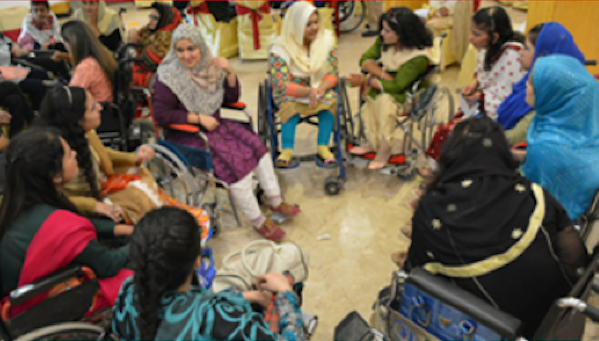 This week the Women's Refugee Commission participated in the 10th Session of the Conference of State Parties (COSP) to the Convention on the Rights of Persons with Disabilities hosted at the United Nations in NYC. This year's conference focused on humanitarian action, providing WRC and our partners a unique opportunity to influence states, UN agencies, and civil society to pay greater attention to the rights of women, children, and youth with disabilities displaced by crisis and conflict.
WRC hosted a side event on "The role of women with disabilities in humanitarian action" along with the National Union of Women with Disabilities in Uganda, the Lebanese Association for Self-Advocacy, the Australian, Finnish and New Zealand Missions at the UN, UNDESA, UNOCHA, UN Women, and UNMAS.
The event included a simulation exercise, facilitated by women with disabilities, highlighting to participants the critical role they can play in identifying and consulting with women and girls who are too often left out of humanitarian responses.
The WRC was also one of a small group of civil society organizations to make an intervention in the official proceedings of the COSP during the roundtable on inclusion and full participation of persons with disabilities in humanitarian action. We called on states, UN agencies, and civil society to prioritize organizations of women with disabilities from crisis-affected countries for capacity development, including financial and organizational support. We also joined calls for states to support the development of Inter-Agency Guidelines on Inclusion of Persons with Disabilities in Humanitarian Action, and highlighted that gender equality, women's protection and empowerment must be integrated throughout to ensure that the guidelines truly "leave no one behind."
SOURCE: Women's Refugee Commission, email, 16 June 2017