Celebrate 28 September 2017
Invite a Leader to Make a Statement
LATIN AMERICA & CARIBBEAN

Campaña 28 Septiembre: América Latina y el Caribe
The Campaña Nacional por el Derecho al Aborto Legal, Seguro y Gratuito in Argentina are the new coordinators of the Latin American & Caribbean 28 September Regional Campaign. They call on all activists, networks and organizations to unite across the region and make visible the collective strength of standing together on 28 September with hashtags #UnGritoGlobal por el #AbortoLegal and to send details of all your activities to them by 27 September.
Si bien la transición de la coordinación de la Campaña 28 de Septiembre es un hecho en proceso, nos faltan cuestiones técnicas y actualizar direcciones. Por eso, solicitamos a todas las que reciban esta sencilla convocatoria que nos hagan llegar los puntos focales de cada país y los datos de las organizaciones que desean mantener viva esta Campaña que lleva 27 años de existencia reclamando un derecho indiscutible de todas las mujeres a articampa2017@gmail.com.
Próximamente definiremos día y lugar de reunión en ocasión del EFLAC en Montevideo para que se realice el traspaso formal a las feministas argentinas que asumimos este desafío.
****************************************
ARGENTINA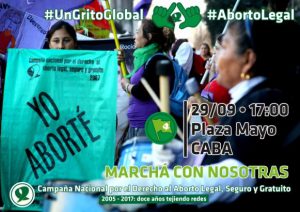 Campaña Nacional por el Derecho al Aborto Legal, Seguro y Gratuito
Debate of candidates on the right to abortion, 20 September
Press conference, 28 September
National demonstration, Plaza de Mayo, 29 September, 17:00
DETAILS: http://www.abortolegal.com.ar/
*************************************************************
EUROPE
SIGN this PETITION for women's right to decide across Europe !!
DETAILS: http://avortementeurope.org/
Available in English/Spanish/French/Polish – 17,000+ signatories so far!!
*********************************************************************
SAMSARA – INDONESIA / WOMEN HELP WOMEN
Women Help Women (WHW), in collaboration with Samsara in Indonesia, is working to expand access to information and reliable medicines. Information on the WHW website about the WHO protocols for using mifepristone+misoprostol or misoprostol alone for a safe abortion have been translated into Bahasa, and are being shared by Samsara in Indonesia.
For 28 September, they have developed a web-based list of reliable sources to purchase abortion pills in Indonesia, along with a blacklist of sites to avoid because the pills they sell are not reliable.
******************************************************
CREA / GLOBAL HEALTH STRATEGIES – INDIA
CREA and Global Health Strategies are launching a one-week campaign (22-28 September) to advocate for improved access to safe abortion in India from the point of view of access to services and barriers within the health system.
DETAILS: https://www.youthkiawaaz.com/2017/09/crea-global-health-strategies-campaign-for-safe-abortion-in-india-22nd-28th-september/
******************************************************
GENEVA
Co-Sponsors: Sexual Rights Initiative, AWID, Permanent Mission of Chile to the UN, Center for Reproductive Rights, RFSU, Sexual and Reproductive Justice Coalition, World Health Organization
DETAILS: http://mailchi.mp/5d8710663a0e/in-geneva-dont-miss-our-sept-26-panel-for-the-day-of-action-for-access-to-safe-and-legal-abortion?e=24f6e67b4f
*******************************************
BOLIVIA
Campaña 28 de Septiembre – Bolivia